Arrow Cars Sponsor Charity Event
by David Richmond, Chairman, Arrow Cars. 27 January 2020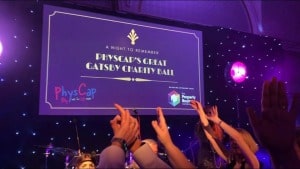 On Saturday 25th January Arrow Cars was a headline sponsor for PhysCap's Great Gatsby Charity Ball 2020.
PhysCap is a Yorkshire charity dedicated to improving the quality of life for children suffering from severe physical disabilities, by purchasing specialised and therapeutic equipment.
It was a fantastic evening, an amazing well organised event & the atmosphere in the room was spectacular.
Over the past 25 years PhysCap have provided countless families with equipment ranging from touch screen computer systems and adapted treadmills to electric buggies and specially adapted trikes.
I am delighted to add my support and proud to be associated with PhysCap.
David Richmond
Chairman of Arrow Cars