Arrow Announces the Launch of Brand New Tesla Service
by David Richmond, Chairman, Arrow Cars. 16 January 2020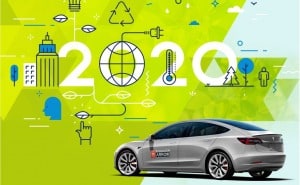 Arrow Cars is taking the climate emergency seriously and from March this year we will be able to offer our customers a fully electric corporate travel service.
Our electric vehicle offering to our customers and our drivers has become one of our main objectives for 2020 and beyond.
The service will launch in Leeds at the end of March this year and at our Bristol Airport site in June.
Q1 2021 will see a further extension of the rollout in Leeds and Bristol along with the launch of the service into Birmingham and Newcastle.
Our extensive and stylish Tesla vehicles will provide the First Class Experience and ensure passengers are transported safely and in style.
We are committed to the ongoing sustainability and future-proofing of our communities and we believe in investing and improving.
Sustainability is at the top of our agenda for 2020.
This is only the first small step in our journey to a zero-emissions fleet.
Keep an eye out for further details in the coming weeks and please email gotesla@arrowcars.co.uk for more information and corporate account enquires.