Self Serve Kiosks To Be Installed At East Midlands and Bristol Airports
by Harry Clavane, Operations Director, Arrow Cars. 3 January 2020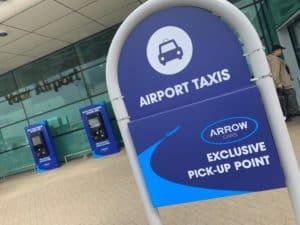 Multiple self-service booking machines have now been rolled out across our UK operation, enabling customers to process their own bookings for their onward travel.
The machines also provide the option for customers who have pre-booked to register their arrival and dispatch their cars immediately, delivering a seamless experience and negating the need for customers to visit our desk.
Machines can be found on the very front of the terminal by our pick up point at Newcastle Airport, in the arrivals hall at Leeds Bradford Airport and at our Birmingham site, kiosks are available in the domestic baggage reclaim halls and also by our booking desk outside the main arrivals exit.
Technology provides unprecedented support for our customers and we continue to innovate and provide our customers which a choice.
Our self-service kiosks further demonstrate our commitment to customer service and providing the very best in Private Hire travel.
We look forward to a further rollout in Q1 2020 at East Midlands and Bristol Airports.